Academic Program At ISA
ISA teaching and learning is based on the Common Core State Standards from the United States (http://www.corestandards.org). These high quality academic goals outline what students should be able to know and do at the end of each grade. They were created to ensure that all students graduate from high school with the skills and knowledge necessary to succeed in university, career and life, regardless of where they live.
Learning at ISA takes place in three languages: English, French and Arabic. The majority of our academic program is in English, but French and Arabic language lessons are also part of the curriculum. Our goal is to prepare students for university study in English while maintaining a literate level of French and Arabic.
The ISA curriculum is built around the idea that students are continuously learning, whether it is in the classroom, while visiting a local business, on the football pitch or volunteering at a local orphanage. Inquiry learning can be both a personal and communal experience for students, so the ISA curriculum is designed to engage students in a wide variety of learning environments.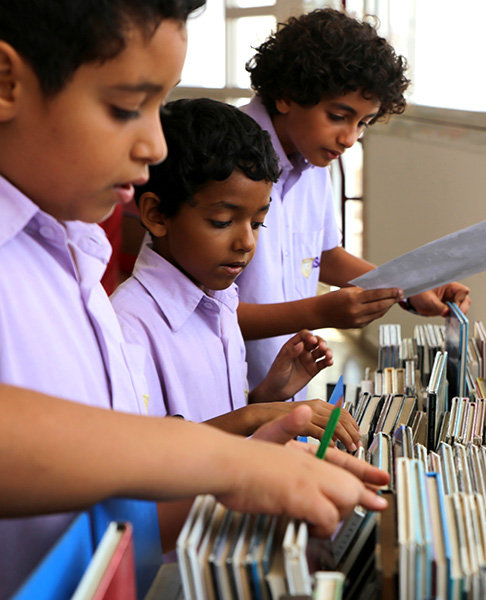 ISA Library
"Without libraries what have we? We have no past and no future... "
Ray Bradbury
The ISA Library is a collection of print books as well as ebooks accessible online through our ISA Follett site (https://isa-dj.follettdestiny.com ). The goals of our instructional program include instilling a love of reading and fostering information literacy skills. By providing access to diverse collections, effective tools, and flexible learning spaces, both physical and virtual, we aim to enrich and educate our ISA families.
Languages at ISA
Multilingual education at ISA involves English (the language of global business), French (the mother tongue) and Arabic (the regional language). These languages were chosen as the languages of instruction because of the growing international business climate in and around Djibouti. In support of the ISA Mission Statement, the languages in our curriculum are used to promote "academic excellence with an international focus."
ISA Technology
Technology has the ability to enhance relationships between teachers and learners. When teachers effectively integrate technology into subject areas, teachers grow into roles of adviser, content expert and coach. At ISA, technology instruction is integrated into every class. Students are instructed through the use of tablets, laptops and interactive whiteboards. Wi-Fi is available in each classroom and boosters are placed around campus to ensure service to every classroom.
Learn More About 
ISTE (International Society for Technology in Education) Standards
Fine Arts
The arts have always served as the distinctive vehicle for discovering who we are. Providing ways of thinking as disciplined as science or math and as disparate as philosophy or literature, the arts are used by and have shaped every culture and individual on earth. They continue to infuse our lives on nearly all levels—generating a significant part of the creative and intellectual capital that drives our economy. The arts inform our lives with meaning every time we experience the joy of a well-remembered song, experience the flash of inspiration that comes with immersing ourselves in an artist's sculpture, enjoying a sublime dance, learning from an exciting animation, or being moved by a captivating play.
Source: National Core Arts Standards, 7-21-2016
Character Education
The Six Pillars of Character are part of a character education program by an organization called "Character Counts!" When you practice the Six Pillars of Characters, you are described as a student or person of character. Being a student or a person of character requires commitment.
Even though these six individual Pillars of Characters stand alone, they are intertwined. They share similar characteristics that lead into each other. You cannot have one without the others. When you make a firm commitment to be the best in everything that you do, you become a student of character. You exhibit Respect, Responsibility, Caring, Trustworthiness, Fairness and Citizenship in everything you do.
Activities
At ISA, we believe that activities outside of class are an excellent way to learn, develop skills and talents and build confidence. We offer a range of activities from soccer, swimming, visual arts, chess...and so much more. Offerings change each semester and we encourage all of our students to sign up for an activity.
Our Sustainability
program
Education for sustainability develops the knowledge, skills, values and world-views necessary for people to act in ways that contribute to more sustainable patterns of living. It enables individuals and communities to reflect on ways of interpreting and engaging with the world.